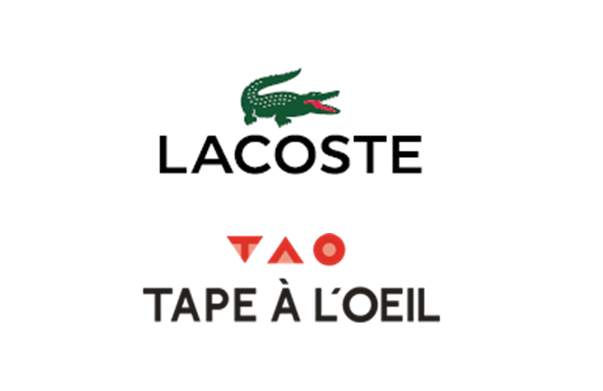 After the 14 new brands who joined ICS in 2017, (Camaïeu, Maisons du Monde, Promod, La Redoute, and Vivarte group composed of the following brands André, Besson Chaussures, Caroll, Chevignon, Cosmoparis, La Halle, Merkal, Minelli, Nafnaf, San Marina); we are pleased to announce the membership of Lacoste and Tape à l'Œil.
The Lacoste legend was born in 1933, when René Lacoste revolutionized men's fashion replacing the classical woven fabric, long-sleeved and starched shirts on the courts, by what has now become the classic Lacoste polo shirt.
Almost 80 years after its creation, Lacoste has become a «lifestyle » brand with international fame. Indeed, in 2016, 10.000 employees around the world distributed Lacoste products in 120 different countries through 3.420 points of sale.
Tape à l'Œil is a child brand with its own style, managing to mix the Fashion from fashion show with fun and sophisticated point of view. Tape à l'Œil is convinced that the energy of tomorrow's world stands on kids' skills which emerge thanks to the benevolent gaze of adult.
Along with all ICS members, we truly believe in supporting factories together to sustainably improve conditions for people at work and sharing good practices.