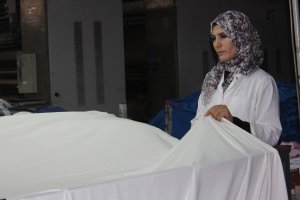 The International Trade Centre (ITC) has partnered with ICS, which is representing a number of European textile retailers, to strengthen competitiveness and climate resilience in the Moroccan textile value chain. The launch of the project coincided with three days of meetings and training in Casablanca, Morocco, on 10-12 April, which has brought together representatives from the Moroccan, French, German and Spanish textile sectors.
Adapting to climate change is a serious challenge for governments, businesses and communities. Micro, small and medium-sized enterprises (MSMEs), particularly in developing countries, see their operations facing increasing volatility due to climate change related impacts such as increased prices for raw materials, energy and water, and degraded transport routes and processing facilities as a result of heavy rainfalls or drought.
Crucial to the project was the participation of European companies which have taken an active role in the project. These buyers have identified participating suppliers, participated in sensitization workshops and took part in a selection of customized coaching sessions together with their respective suppliers. As climate change affects all stakeholders along the supply chain, partnership between suppliers and buyers is important in formulating effective and multidimensional responses.
In the coming months, the project will work with MSMEs in Kenya and Morocco to develop climate-change adaptation strategies. The participants will be exposed to a blended learning approach consisting of customized advisory services for MSMEs and online leaning modules. This includes online learning through the 'Becoming a Climate Expert' course that will be available on the ITC SME Trade Academy and which features contributions from organizations such as United Nations Framework Convention on Climate Change (UNFCCC) and  Sustainability Map, ITC's online toolkit on voluntary sustainability standards (VSS).
The International Trade Centre (http://www.intracen.org/) is the joint agency of the World Trade Organization (https://www.wto.org/) and the United Nations. ITC assists micro, small and medium-sized enterprises to become more competitive in global markets, thus contributing to sustainable economic development as part of the Sustainable Development Goals. For more information, visit www.intracen.org (http://www.intracen.org).